Jamboree Departure
I woke up at 6:20. Somehow I managed to oversleep the alarm clock. Once I gather all of my courage I took the ice cold shower. Wasn't sure when I was gone get a nice shower again before our arrival to Slovenia. Risk of stinking for 4 days was just to high.Packing of few last things followed. Then breakfast. Then camp clean up. Alright we are ready to go: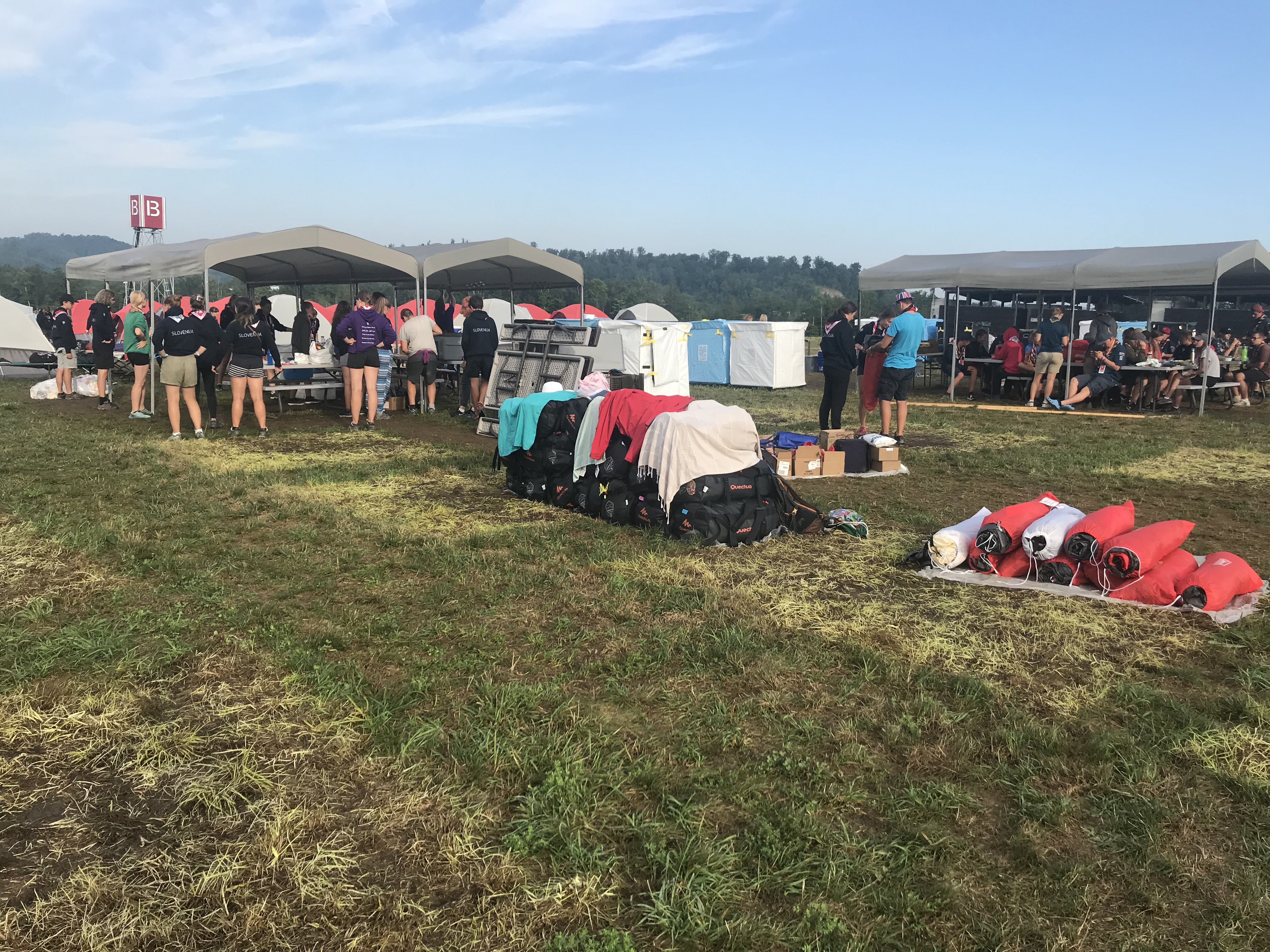 Thank god that it didn't rain. We had plenty of time left before the departure so we took our time and slowly (or 'Lagano sportski' as we would say) transported our gear to the Bravo HQ. Then the fun started.So departures were a mess. Yeah the Jamboree organisers were not really in sync. We were supposed to depart from the Bravo HQ. But then 15 minutes before departure a staff member from Sweden decided that our departure location was from a hospital site. We were as confused as the boss of the Bravo sub camp. But the only thing we could do was pick up our luggage and transfer it up the hill. Then of course the buses were late. But not just that. We've sent few of our IST members to the Jamboree welcome Ruby centre to pick up the bus drivers. But bus drivers drove directly to the Jamboree site. Apparently American drivers are not so good at reading instructions. So once we were all packed on our buses we headed to the Ruby centre to pick the rest of our IST. Few more fun facts. One bus driver barely spoke any English. I think he was Chinese. Our bus driver on the other hand didn't want to wait for the other two buses because drivers were driving slow. Huh OK.With a few hours of a delay we finally departed for the Gettysburg. On our way we stopped at the gas station. Occupy McDonald's was the next mission. OK my first big mac ever and infinite refile of drinks. Not that bad though not particularly tasty.We drove past the Woodstock place and few other interesting places. I'll admit when you are observing US countryside it really feels like in the movies. In the evening we finally arrived to the Gettysburg and the place of our last stay in the US. Tent's were up in seconds. Our hosts were a bit surprised how fast we did it. Well if you tell 176 scouts that they aren't getting diner before the tents are up magic happens 🙂During dinner those fine gentlemen sang a few welcome songs for us: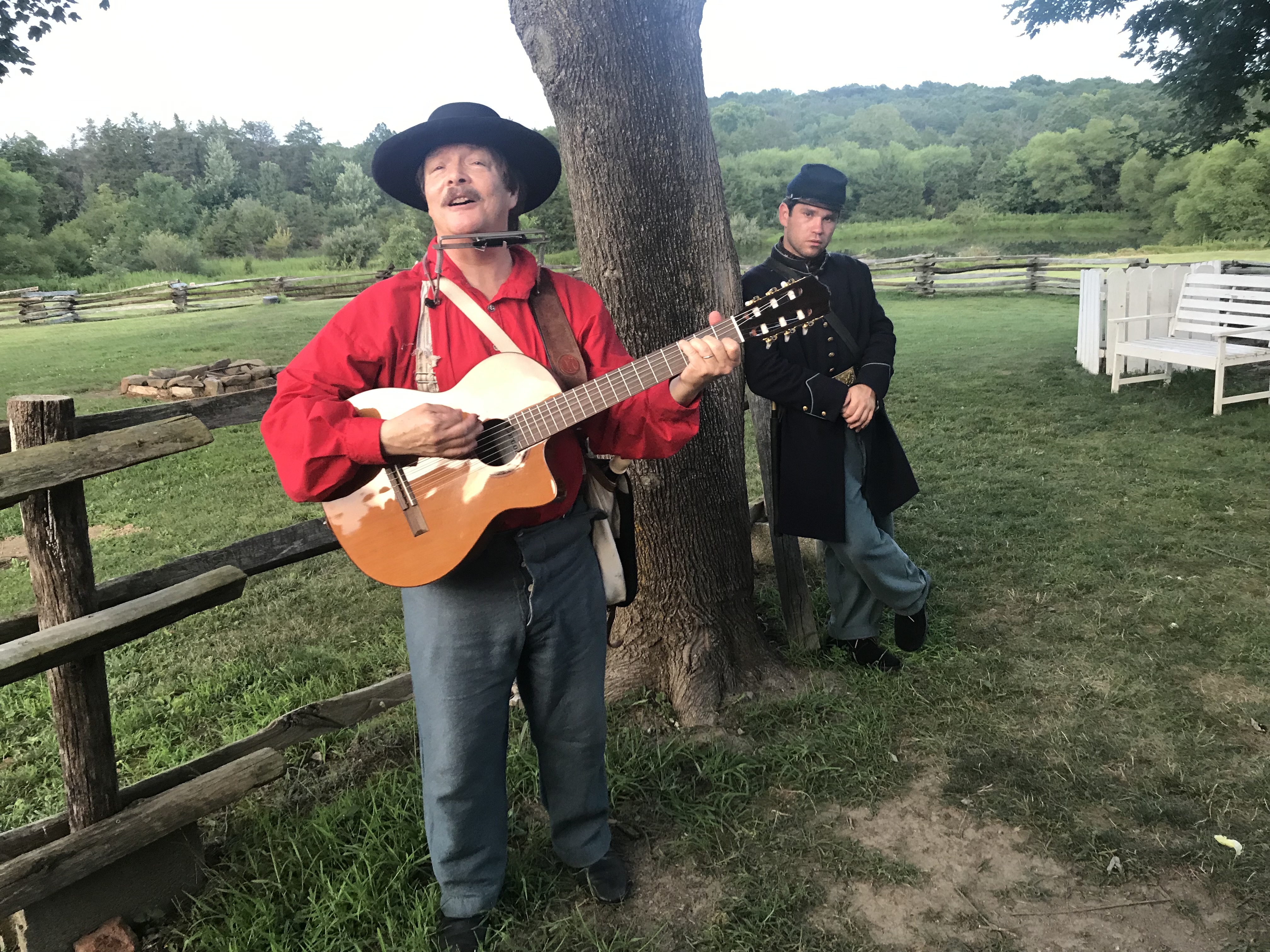 we got plenty of fresh chicken for dinner. After that few of IST-s helped me sort all of the food we brought from the Jamboree. Conclusion we have enough nuts and sweets that we can eat them for three days 🙂 Once everything was counted Emil decided what else he's going to buy. It was a bit of a tricky decision since we didn't want to throw away any of the food but wanted everyone to eat.In the meantime the others started to play the guitar by the fire so we joined in once we finished. Dodo and guitar Bob were in action again. At 23:00 participants went to bed. Staff and leaders continued playing the guitar and a flute by the fire. At midnight we celebrated another birthday. It was Tina's turn this time. Ice cream was quite refreshing after a long day. We kept singing till 1:30 in the morning. I missed that part of the scouting life. If I don't sleep for the last few days I can compensate for that when I get home. So let's enjoy while it lasts.
Get notified & read regularly 👇