IST experience
by Tina & Tina
So let's begin with the question a lot of people have been asking us: ''Do you regret going to the Jamboree as a member of IST (also known as International Service Team)?''. The answer is: absolutely NOT!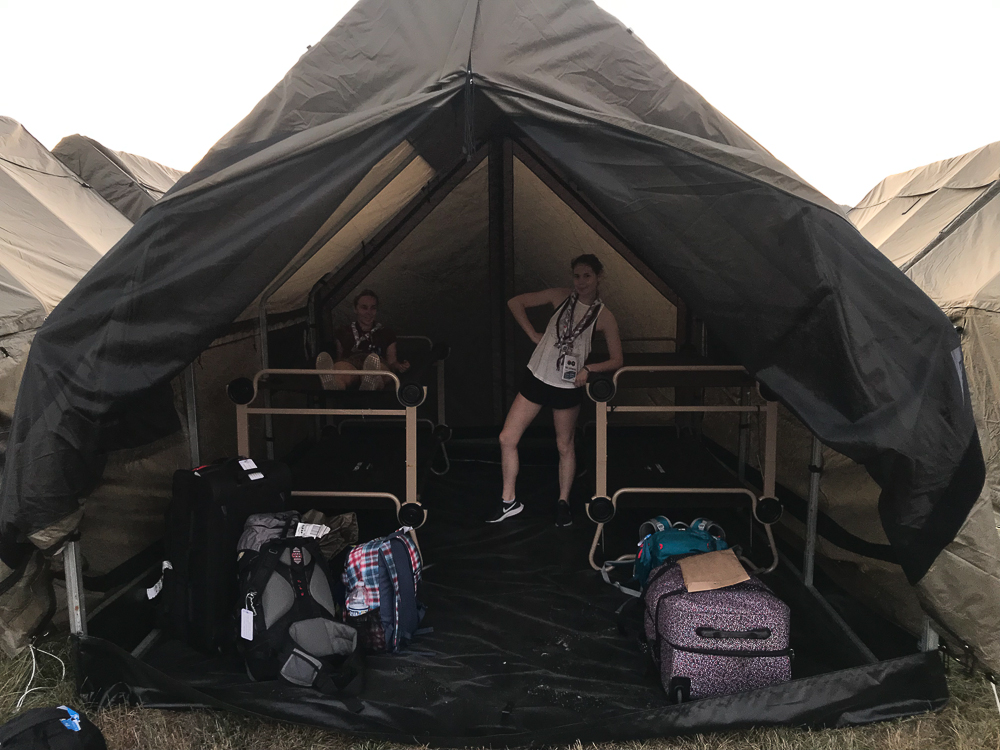 A lot of participants think that IST members only come to Jamboree to work-because that is the only part they see. It's true that every IST member has a job that he has to do and our job is to make this event unforgettable for the participants. This means that we have to wake up early in the morning and head to our workplaces, before the activities even open, so that we are prepared when an army of teenagers, full of energy, wakes up wanting to have fun.
The hour at which you have to wake up depends on what is your job- some people (those working at the adventure activities) have to wake up at 5am and some don't need to be up till 10am (Nermin!). But the missing hours of sleep could always be made up for on the bus ride to work (at least that's what we did).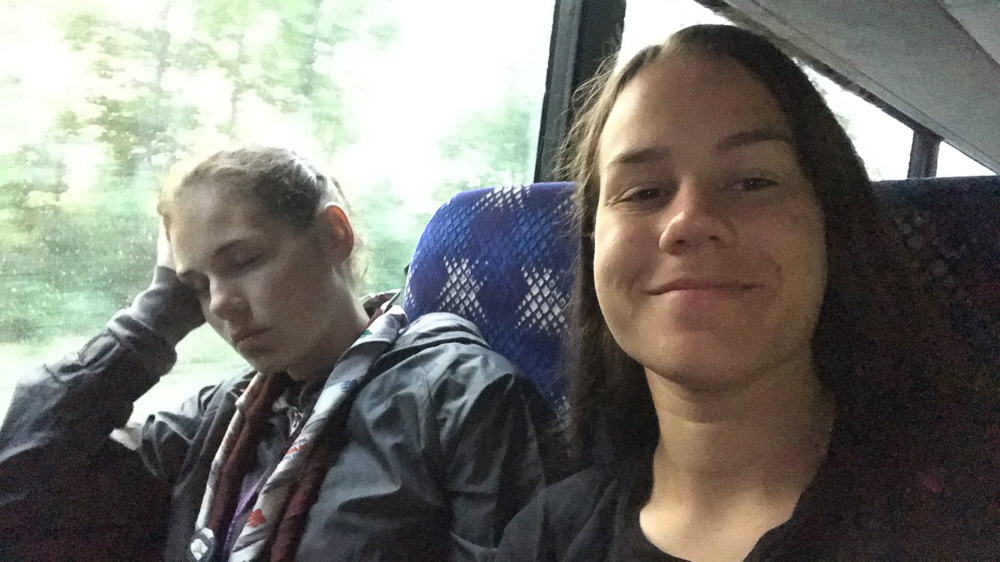 And every member of IST got at least 2 free days to attend different activities and enjoy the Jamboree just like he was a participant. But working is definitely not the thing we will remember. We got 3 free days. One was cultural day (we basically walked around the camp all day and ate food (way too much) from all over the world.
Other two free days were spent doing activities just like we were participants of the Jamboree. On our second free day we woke up at 6am to eat breakfast and rushed to the bus, because we didn't want to wait too long to shoot with the riffles. And our mission was executed perfectly. We were the first ones at the shooting range and we could shoot every riffle 3 times (watch out, we're dangerous now 😉). The next idea was to shoot with a bow. But the Bows were about 500 meters away, so why would we walk there if we had the bus? Of course we took the bus (we were lazy and tired, oops), but because we were so tired we fell asleep and didn't wake up till the last station, on which everyone had to get out of the bus (it was at that moment we knew, we messed up…). At that point the line for the bus was so long, we weren't prepared to wait. Sooo we decided to go hang out with our awesome Contingent Member team at our Slovenian contingent tent (thanks for letting us annoy you) for most of the day. Very exciting day indeed.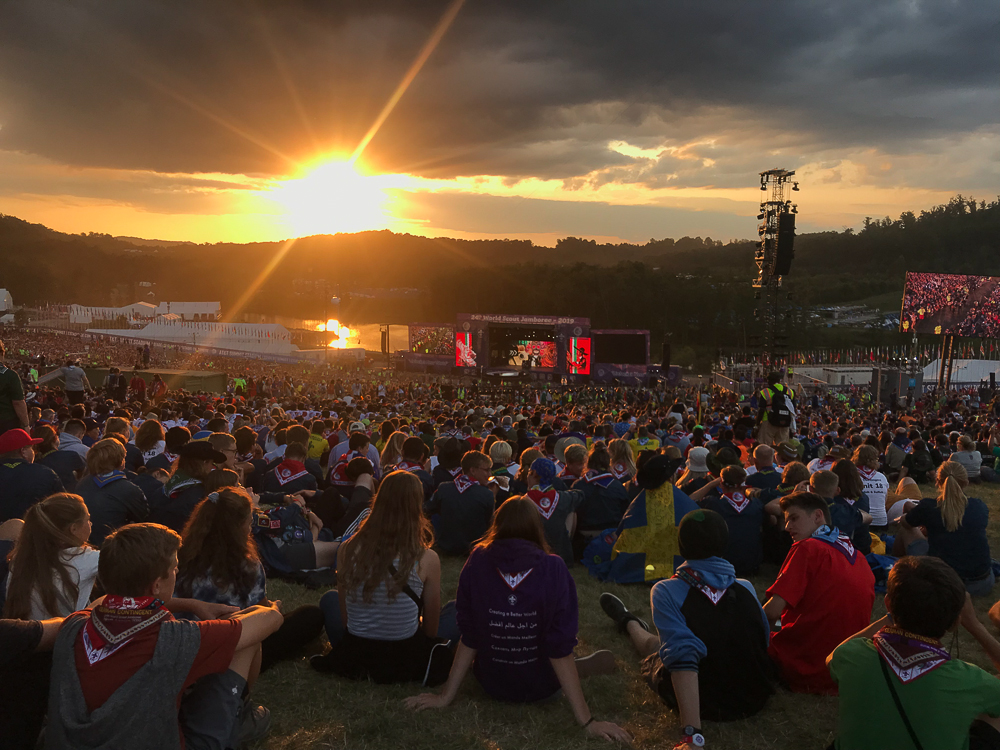 Participants were not allowed into our camp, Echo, and they had no idea what they were missing out on. It was not possible to be bored in our camp! Every night there was at least one party (for that we had the music tent and an outside stage). If you weren't in a party mood you could just chill at the Rainbow Café where you could talk and meet new people, play board games and sing karaoke (also this is the place that gave out free coffee, who would refuse that?!). If you wanted to work on your summer body there was also a fitness and a sauna. We can't forget about our little cinema, where we watched a number of good films (Mamma Mia was the first on the list and of course about 100 scouts sang their lungs out). A popular site in our Ephesus Base Camp was Chat and Chew. This is the place where you could meet new people, listen to music, join the black market and trade a badge or eat the best ice-cream on Jamboree! (sorry participants, only available in Echo).
Another perk of being a member of IST is that you didn't have to cook for yourself. All of the meals were prepared for us to eat in the Jamboree dining room. And we really had a wide selection of food to choose from. From Mexican food, to Chinese, ''traditional'' American dishes, Indian food and many more. And the best thing? The buffet was all you can eat 😉. In conclusion-you were NEVER hungry.
We believe, that by being a member of IST you have the most chances to meet new people from all around the world and really make meaningful connections. If you're lucky you get a great team of people to work with at the Jam (you're basically forced to spend at least 8 hours a-day with them, so you definitely find at least someone you like). We were very lucky that we had the opportunity to work with an amazing group of very diverse people (Irish, British, Australian, Egyptian, Romanian, Mexican… can't forget the Indians!!), most of them aged from 18-21, so we obviously had a lot to talk about. But there are a lot of chances to make friends outside of work too, don't worry.
We met a lot of people we will never forget- some from our Slovenian contingent and some from all over the world. We won't forget even the simplest moments of our Jamboree experience. It really was the best way to start the long summer that's ahead of us. But we also need to thank Žiga and all of the Slovenian members who listened to our stories and for keeping up with Tinas. 😉
XOXO T&T
Get notified & read regularly 👇